Kenji Sakaki
Name
Kenji Sakaki
榊 健滋
Sakaki Kenji
Nationality
Japanese
Professional Status
Occupation
Mangaka
Known for
ǝnígmǝ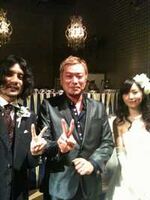 Kenji Sakaki (榊 健滋, Sakaki Kenji) is a Japanese manga artist known for creating the manga series of ǝnígmǝ.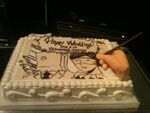 She was a former assistant of Akira Amano, creator of the series Katekyō Hitman Reborn!.
On September 24, 2010, she married fellow Weekly Shōnen Jump manga artist Kyosuke Usuta, who created Pyu to Fuku! Jaguar.
Title
Issue
Pages
Anthology
Issue Number and Year
Release Date
Beach Bomb
(ビーチボム, Bīchi bomu)
Akamaru Jump
Spring, 2005
Taishō Keisatsu Katsugeki Hyakujū Yakō
(大正警察活劇百獣夜行, Taishō Police Action Movie, Night Walk of All Animals)
Jump the REVOLUTION!
2006
September 29, 2006
Paradies Rule
(楽園条例, Paradisu Rūru)
Jump NEXT!
Autumn, 2012
October 9, 2012
48
Title
Anthology
First Issue
Last Issue
Span
Chapters
Volumes
ǝnígmǝ
(エニグマ, Eniguma)
Weekly Shōnen Jump
(chapters 1-55)
41, 2010
September 13, 2010
47, 2011
October 31, 2011
56
7
Jump NEXT!
(chapter 56)
Winter, 2012
December 26, 2011
Community content is available under
CC-BY-SA
unless otherwise noted.